Services
Damp proof course installation-Rising/Penetrative Damp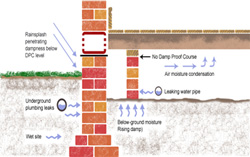 We install new chemical Damp Proof Courses.
Older properties may not have been built with a damp proof course or, as is sometimes the case, the existing damp proof course may have broken down over time, or have become "bridged".
Increased external ground levels, or blocked cavities may contribute to the rise of dampness within wall structure.
Remedial work/treatments:
We identify the source(s) of damp ingress and advise on all remedial work required, including:
Installation of new Damp Proof Course
Installation of damp proof membrane/render
Wet Rot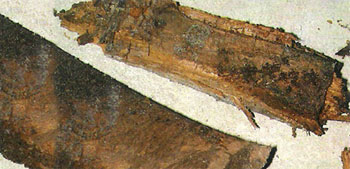 Wet Rot can be caused where there is a moisture content greater than 20%. It is most important to identify and rectify the cause of the damp. An example might be a sub-floor pipe leak. Rot can also occur where floor joist ends or wall plates are in contact with damp walls (a common example).
Two of the most common fungi are: Cellar Fungus (Coniophora puteana) and Mine Fungus (Fibroporia vaillantii).
Remedial work/treatments:
To remedy cases of Wet Rot, it is important to identify the underlying cause and carry out all necessary repair work. Specifications detailed in Survey Report, or upon request.
Dry Rot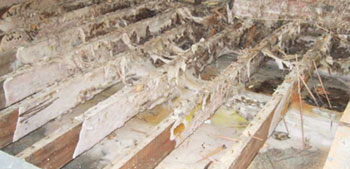 Dry Rot is actually a form of wood-destroying fungus - Serpula Lacrymans.
The mycelium occurs on the surface of infected timber which, in still humid conditions, appears as a white, cotton-wool like growth.
Bright lemon-yellow patches may also be seen in less humid situations.
Dry rot can appear where timber has a moisture content of greater than 20%. Possible causes can be a plumbing or drainage leak either immediately in the area, or water ingress from the exterior.
Remedial work/treatments:
To remedy cases of Dry Rot, we identify the underlying cause, carry out all necessary repair work.
Remove affected timber
Carry out specialised treatments
Re-instatement work
Specifications detailed in Survey Report or upon request
Woodworm Treatment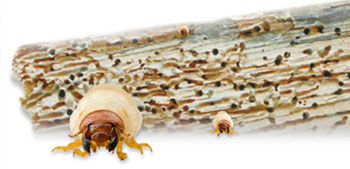 The term "woodworm" is commonly used to describe a number of wood-boring insect larvae.
The parent insects lay their eggs in timber and the larvae which develop bore their way through the timber.
Remedial work/treatments:
Depending on the type and severity of the damage caused, we will identify the type of wood-boring larvae infestation and apply one of a number of effective liquid spray treatments.
Treatment of all infected timber
Repair or replace any badly-damaged timber
We provide spray treatments to eradicate all wood-boring beetles. Mainly loft spaces - rafters, joists and purlins - and floor joists and floorboards.
Left untreated - can cause serious damage, leading to structural weakness.
Plastering/Rendering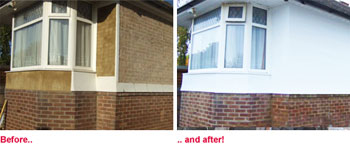 As well as treating your Timber and Damp problems, we are able to provide every other service you need - such as Plastering and Rendering.
Quality Rendering & Plastering:
External Damp-proof Wall Renders
Interior Ceilings and Walls
Basement Damp Proofing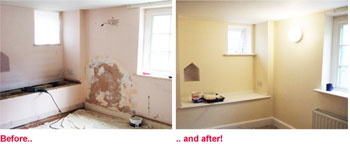 Basement flats (which are either fully, or partly, below ground level, very often suffer from Damp. See the photos below to see what we can do.
Example of Basement Tanking work at a property in St Peters, Broadstairs
Crack stitching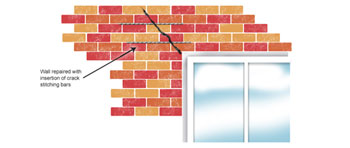 Wall crack repair
Re-enforcing stainless steel rod system
We are able to stitch wall cracks, regaining the strength of the wall structure.
Tensile strength - more than double required by BS5628
Condensation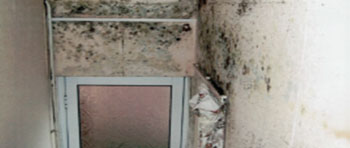 Condensation can arise from a number of sources, most commonly from the contact of warm, humid air with cold surfaces, including walls and window frames. Condensation can also arise from additional humidity in the air due to showers, cooking vapours and washing/drying clothes.
Condensation is often more noticeable in Winter, when wall and window surfaces are colder and clothes may be hung up to dry inside the house.
Un-treated condensation can lead to the growth of mould which can be detrimental to health. In suitable conditions, mould can grow very quickly.
Some fungi produce toxic substances called Mycotoxins, as well as a large number of volatile organic compounds - which cause the familiar "mouldy" odour.
Carpentry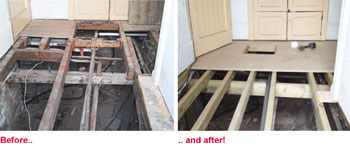 Example of floor replacement work, Boiler room, Masonic Lodge Ramsgate